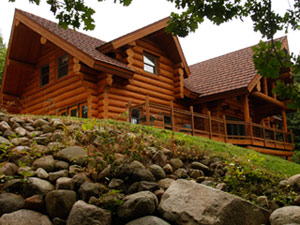 One with a highly successful track record!!
If you are, take a look at us and METAL ROOFING...
Ten years of experience... from apprentice installer... to working on million dollar homes.

A proven track record in getting the job done... in the ten years our skilled installers have achieved a 42 percent increase in jobs completed on time and on budget.

Innovative and creative... with the dramatic roof styles on today's homes metal roofing has an improved and enhanced curb appeal.

A skilled manager... Chris has managed a 4-person crew that reports to the job

everyday... all day.

Ideas that work... with documented results to show that a successful company is more than advertising.

Chris is an accomplished diplomat... highly effective with both architects and general contractors.

An established reputation... known for being a highly motivated achiever of even the most difficult of jobs ....
Contact Bruce Bjorkstrand
Bjorkstrand Metal Roofing
or 715-237-2678