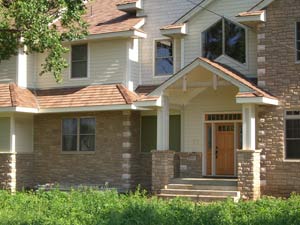 Carl Bjorkstrand is my father and the founder of the Company, he started in 1960. The company has changed personalities over the last 48 years but has retained its focus on roofing. He along with my mother Joan Bjorkstrand did all the phones, estimating, billing and installing, thus the name C & J Roofing. In 1965 I started working with my father after a tornado, I was 14. My name is Bruce Bjorkstrand, I am currently doing the estimating know for the company as my parents have retired.
Chris Bjorkstrand my son is the lead installer for the company. He started installing metal roofing in 1998 after attending a week long training session in Canada. Since that first training he has installed truckloads of metal roofing on a variety of roof styles. There is not a roof type he has not installed a metal roof on. He as the leader of the crew is like a conductor directing the rest of the crew as needed.
Justin Knowles: Joined the company In 2005, starting as an apprentice he worked his way through all fascists of metal roofing installation to become a journeyman installer. He has said "when you enjoy what you do, you do it well". He has taken that to heart because he is now a lead man on the crew.
This is what we like about our team....dedication!
Kelly Taft: Formally worked for another roofing company before he joined us.
He wanted to expand his working knowledge of the roofing industry. With his knowledge and his attention to detail in hand it was a slight adjustment working along side Chris, but what a dedicated, important part of the TEAM he has become.
Carl Gumnes: He is the newest member of our team. He brings with him a work ethic born from long hours working as a cement finisher. This seams to have nothing to do with metal roofing but put the finishing touches on any good project is an art. He has things to learn but some things you can't teach.
Welcome aboard Carl !!
"The Last Roof You Will Ever Need"!