ELK MOUND (WQOW) - The research has been done and the results are in!
News 18 brought you the story about that 12 pound ice chunk that fell through Ken Millermon's home in Elk Mound back in May.
Shortly after, News 18 went to UW-Eau Claire's chemistry department to try and figure out what exactly was that thing. They had many theories on what this massive ice chunk was, and while they've answered most of the questions, there is still just a little bit of mystery.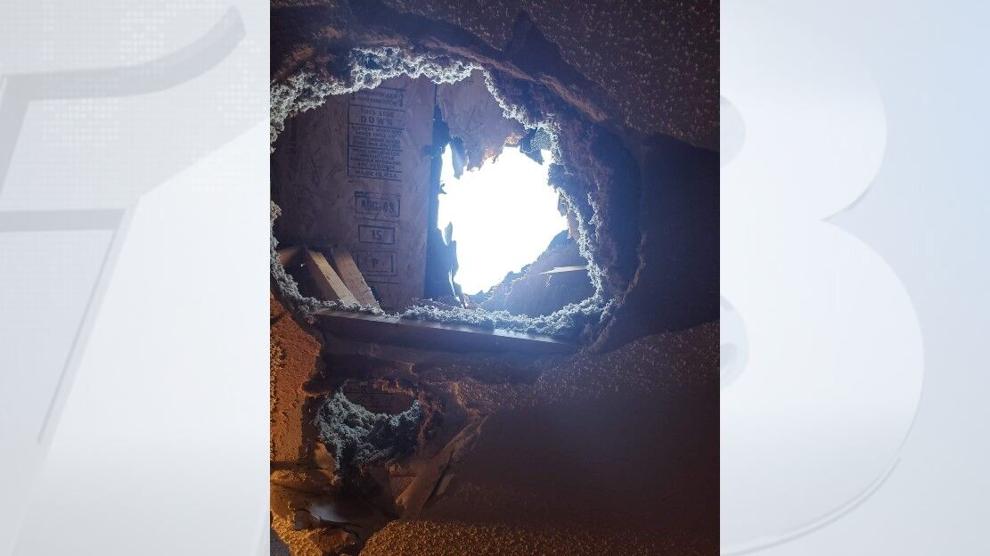 "We got some really interesting results. But I think the first and foremost result is that it's clear it's not a poop-ball leaking out of a bathroom out on an airplane," said Dr. Scott Bailey-Hartsel, professor of chemistry and biochemistry at UWEC.
Following the crash through Millermon's bedroom ceiling, UWEC chemists looked at what they were calling a "megacryometeor" in their lab, and had a lot of questions.
"The big mystery is how the world did it get to be this big so that it eventually fell into this mans bedroom?" asked Dr. James Boulter, air pollution and atmospheric chemist at UWEC.
Boulter's team worked to answer: what is this megacryometeor made of?
"I was responsible for looking at the biological part of this to see what might be in that ice ball that would be interesting, either alive or maybe preserved," Bailey-Hartsel said. 
Maybe this would help us understand where it came from.
"We found a really interesting array of micro-organisms, some of them were the so called blue-green bacteria. Some of them live in Antarctica, they can live in deserts, they've even taken them to outer space," Bailey-Hartsel said. "That's how tough these organisms are."
"We also saw very low concentrations of metals. The metals we did see were metals like sodium, and iron, and calcium," Boulter said.
Okay, so how do all of these things get into the atmosphere in the first place?
"If we think about the way ice is formed in the atmosphere, it starts out at the surface, either evaporation of ocean water or fresh water," Boulter said. "But a lot of the time it has at it's nucleus, the center of these little droplets of water or particles of ice, we're going to have a little spec of dust."
That dust may be carried into the higher levels of the atmosphere by strong wind storms at the surface.
Dust storms from places like the African deserts, volcanic eruptions in Spain, or even the wildfire smoke from out west. They all eject particles up into the atmosphere.
"That's a great description of how droplets form in the atmosphere. Any of those processes form this little chunk of matter onto which the water can condense to form a raindrop or a snowflake, but is that what preceded this conglomeration of ice?" Boulter said. "It's hard to know because it's still mysterious in that respect."
But, there is one thing Dr. Boulter can say with almost 100% certainty..
"The highest concentration metals that we measured were sort of in the tens per parts per million, that means we're 99.99–at least–percent water, and that's pretty clean," Boulter said.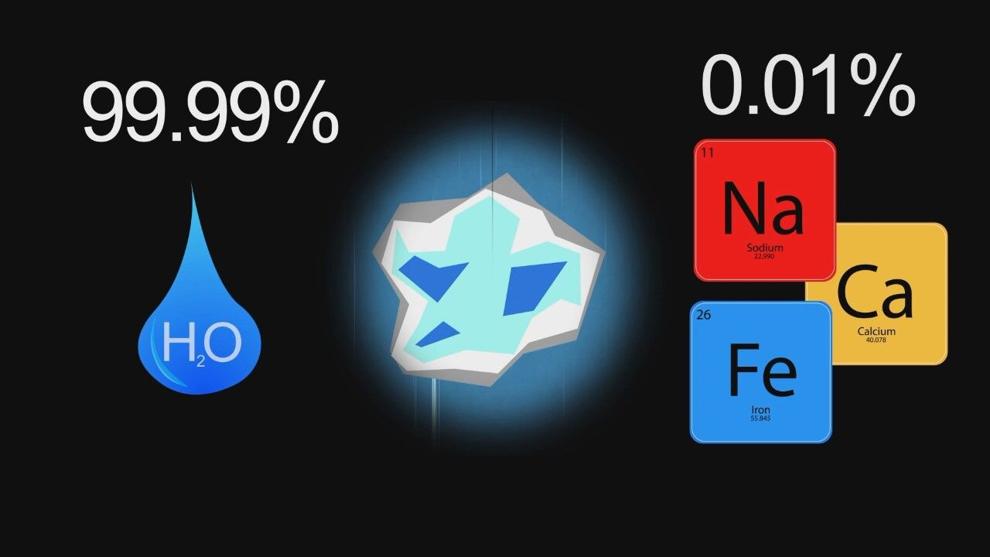 "This is probably one of those once in a lifetime opportunities would you say?" asked Meteorologist Justin Esterly.
"Hopefully," Boulter said. For both his and Millermon's sake.
A scientist's work is never done when it comes to studying something as rare as this chunk of ice, but Dr. Boulter told News 18 the university is excited to be at the center of this operation.
Boulter said this is certainly the most analysis done on any cryometeor within the literature.