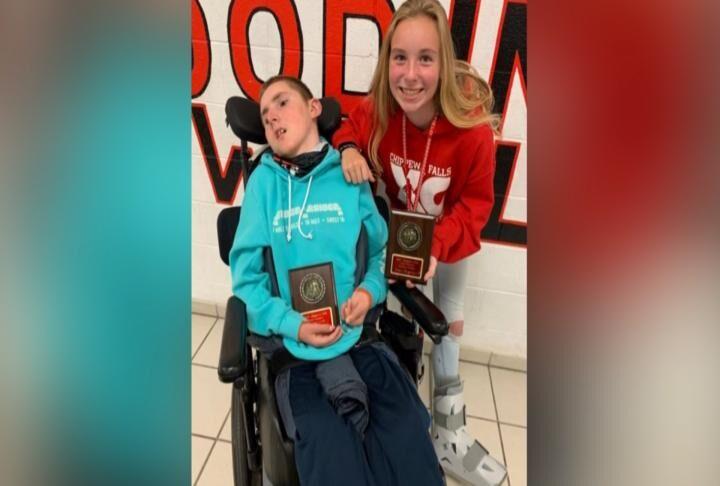 CHIPPEWA FALLS (WQOW) - There is no more competitive, or supportive duo than Jeffrey and Susan Bergeman.
The Chippewa Falls freshmen have always been close, but strengthened their relationship this fall while breaking barriers on cross country courses in Wisconsin.
The Bergemans completed their first Wisconsin Interscholastic Athletic Association race in August. They went on to run with the Cardinals six more times, and lowered their personal-best time to 31:23 in the final race of the season.
"Did you have a good year?" Susan asked Jeffrey a week later. "Yeah. we going to do even better next year? yeah? Ok, sounds good."
Earlier this month, the two were presented with the 'Cardinal Award' at the team's end of season banquet, for their 'embodiment of the spirit of all that is good from a student-athlete.'
Jeffrey has cerebral palsy after suffering cardiac arrest at 22 months old, but has never lost a race to Susan, or his father, Jordan. In fact, most of the Bergeman family has pushed Jeffrey and his wheelchair across the finish line of a race.
Susan and Jeffrey began running school meets together in sixth grade. Inclusion with other students was difficult at first, but has improved each year.
"The coaches are amazing, everyone is just great this year," Susan said.
Watching Susan push Jeffrey is nothing short of inspiring. Between the early-season heat and the many hills area courses feature, Susan gave everything she had in practices and meets.
"At some points I'm like this is hard dude," Susan said to Jeffrey.
"I personally tried to push the chair before, it's not easy," sophomore Abigail Myers said. "It takes a lot of strength."
Senior Lukas Wagner added he felt selfish for only powering his own body during training sessions.
"I don't think I could do that," he said of pushing Jeffrey's chair.
Other teams took notice, lining areas around the courses and finish lines to cheer on the Bergemans.
"That definitely helped and made a bigger impact on my season," Susan said. "It made it more fun to be out there."
The Bergemans hope to compete on varsity someday, but were considered exhibition entrants this season. Cardinals head coach Roger Skifstad and activities director Mike Thompson are engaged in discussions with the WIAA about how the siblings can compete in a manner that is fair and safe for everyone involved.