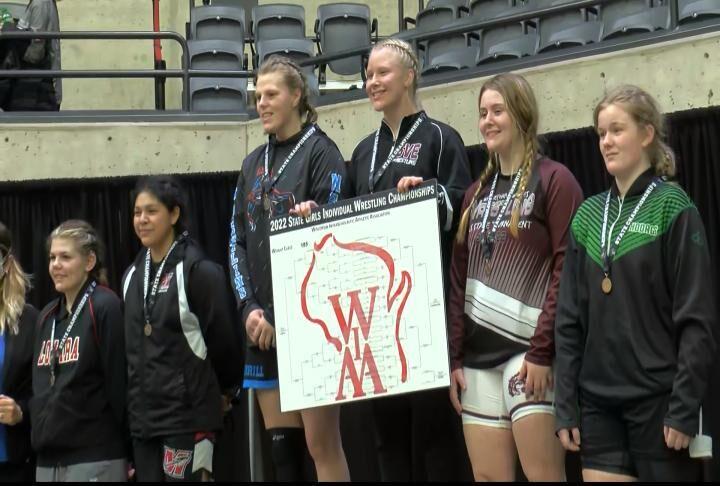 STEVENS POINT (WQOW) - The Kohl Center will host the boys and girls individual state wrestling tournaments next year, the Wisconsin Interscholastic Athletic Association announced Wednesday.
Six wrestling coaches' recommendations received approval from the WIAA Board of Control, including the addition of a 16-competitor bracket to qualify for the girls State Individual Tournament to be held in conjunction with the boys Individual Wrestling State Tournament.
The inaugural girls state tournament was held in La Crosse.
The boys postseason will move to a super-regional format for Divisions 2 and 3 next year. The format combines two regionals into one for both divisions. The top four individuals will advance to sectionals and the top two teams will advance to the team sectionals.
In Division 1, the top two teams from each regional will advance to the team sectionals, similar to the existing Division 2 and Division 3 team format.
Team sectional final matches will now have an assistant referee, and electronic seeding will be used for the State Team Wrestling Tournament.
Finally, the Board voted to eliminate a WIAA adaptation to an NFHS rule that allowed competitors to lower shoulder straps on uniforms.
Gymnastics returning to modified Capital Cup format in 2023
The WIAA announced the state tournament in gymnastics will return to the modified Capital Cup format starting in 2023. The team competition in both Division 1 and Division 2 will be conducted Friday and individual competition in both divisions will be conducted Saturday at Wisconsin Rapids Lincoln High School.
WIAA does not review use of shot clock in nonconference games
The Board did not review and vote on the coaches' recommendation to allow the use of a shot clock in nonconference games if mutually agreed to by both head coaches. The Advisory Council opposed the recommendation in a vote on Tuesday, which means to Board of Control did not have the opportunity to review it.
See the full WIAA Board of Control June Meeting Release here