Freezing or near-freezing temps are likely tonight for all of the state of Wisconsin, with lows near 30 likely for most of Western Wisconsin. A Freeze Warning is in effect for Buffalo and Trempealeau counties, but not elsewhere as the NWS has determined the growing season to be over in the gray-shaded counties and therefore won't issue frost or freeze alerts.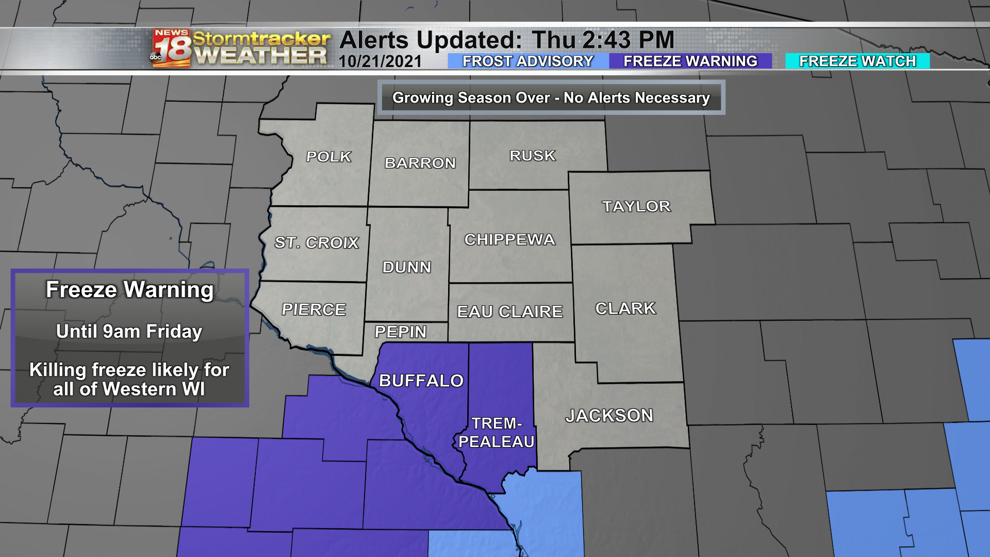 Still, if you have any plants left outside you'll need to bring them in or cover them up as this looks like a killing freeze for anything still growing. Temps have begun to fall from today's slightly below average highs.
This cooler air is a result of a northwest breeze that has carried colder air into the Chippewa Valley. Any temp that is below 50 with a wind above 2 mph will have a wind chill factor, too, but expect the wind to calm overnight.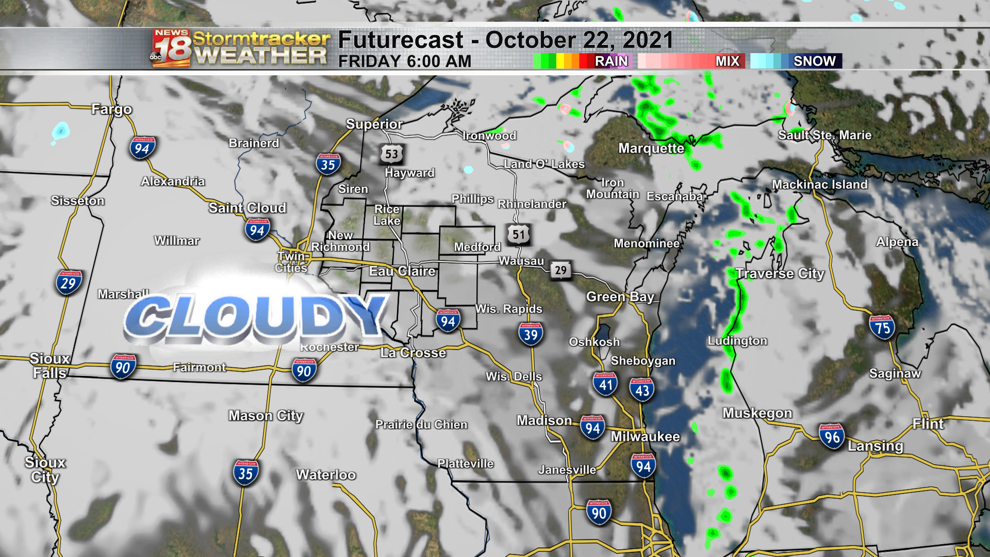 A calm wind is one of the two most important factors when it comes to having chilly nights. The other is the lack of cloud cover, which is where tonight's question mark lies.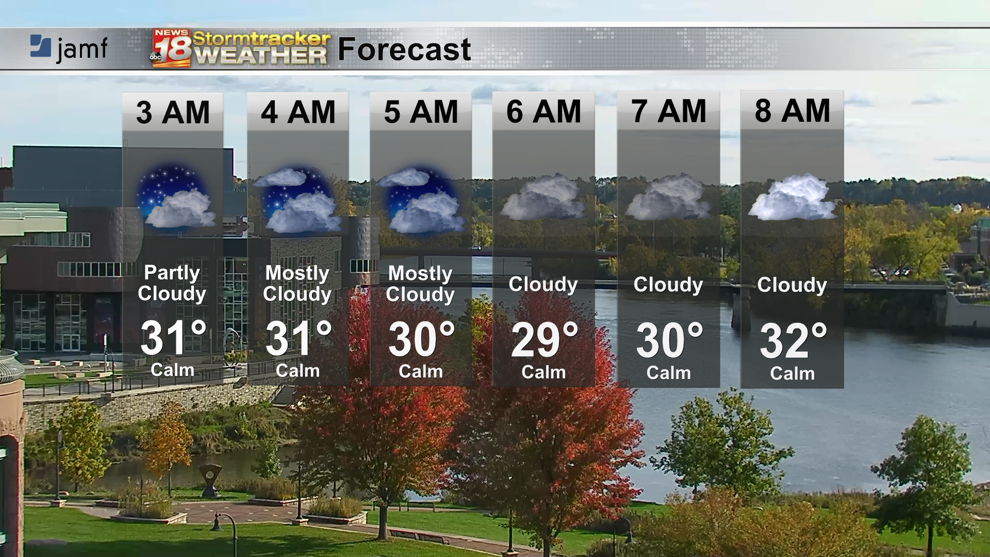 Clouds are likely to move back in late tonight into tomorrow morning. Areas that stay cloud-free the longest will be able to cool the most. For areas that stay clear, lows in the mid to upper 20s are likely. Areas that cloud up will likely hold in the low 30s.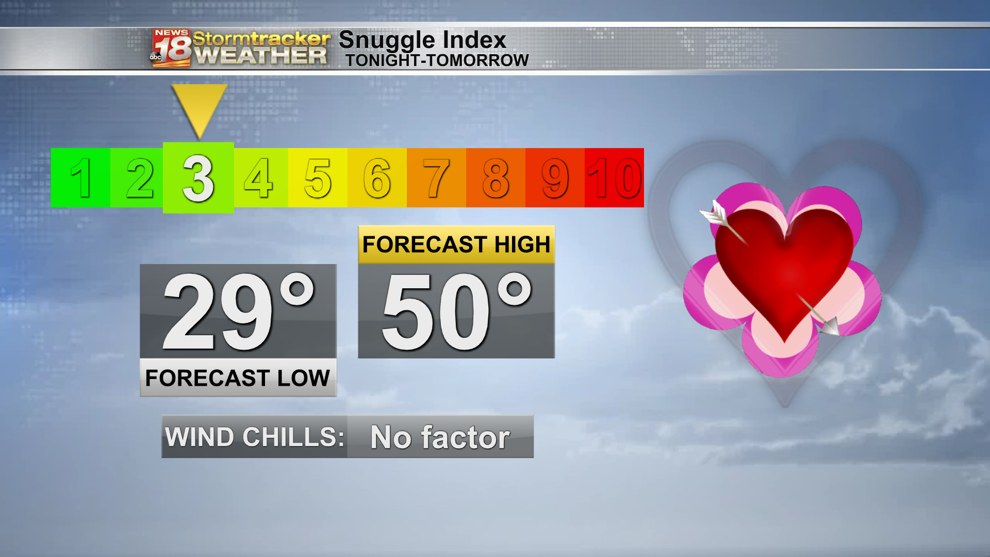 Regardless, it'll be a chilly night especially if you don't quite want to turn on the furnace just yet. For that reason, our snuggle index is at a 3 out of 10 tonight. No, it's not a mid-winter night with double digit negative temps, but without heat you'll stay warmer next to someone else or a pet.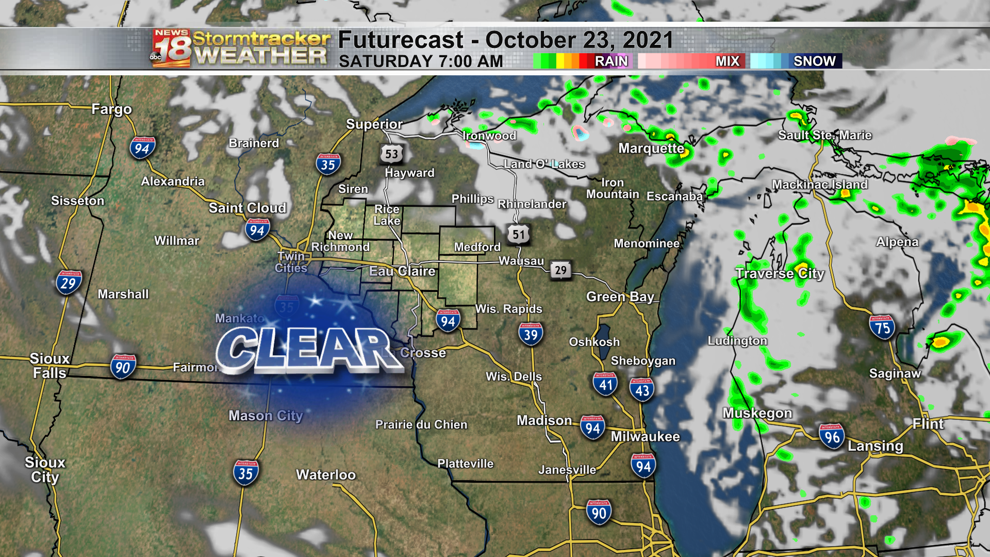 Tomorrow night has a much better chance of staying clear and calm through the night. As a result, lows in the mid 20s Saturday morning look to be a bit more widespread. Highs through the weekend will top out only near 50 with a decent amount of sunshine Saturday.
Sunday will start sunny, but clouds will arrive ahead of our next rain chance that looks to move through Sunday evening through Monday morning. Temps will be a bit warmer behind this system for next week, although there will be a few more rain chances mid to late week, too.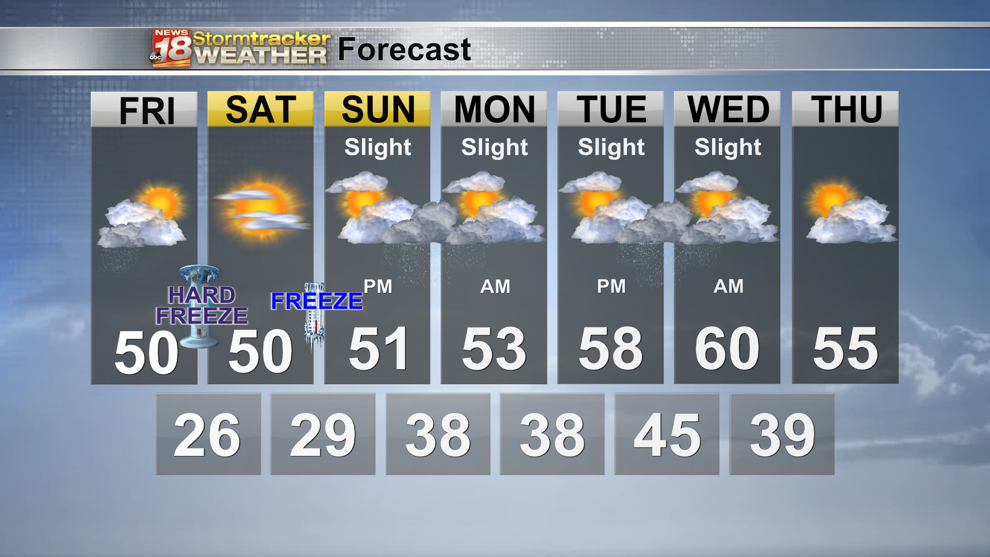 As temps get cold, make sure your car and home is ready. If you don't want to find yourself stranded on one of those frigid mornings when tow companies have wait times measured in hours, make sure your battery is ready for winter and replace it if necessary. Another important thing to replace is tires if they are worn, and it's getting to the time of year to switch tires to winter tires if that's what you choose to do. Check other fluids, belts, and components as well. 
At home, bring hoses in and shut off water valves from inside of home, usually in the basement to prevent water freezing in pipes. In addition, winterize your lawn mower by adding winter fuel additive and running it out of gas. Now is also the time to service your snow blower to see if it's in working order.