It was the coldest morning since June 4 with low temperatures in the low to mid 40s in the Chippewa Valley, though temps to the east were in the 30s and Black River Falls fell one degree shy of its first freezing low temperature!
Temperatures will be similar or slightly cooler tonight. Highs this afternoon were in the low to mid 60s, which were between 5 and 10 degrees below Eau Claire's average high of 70.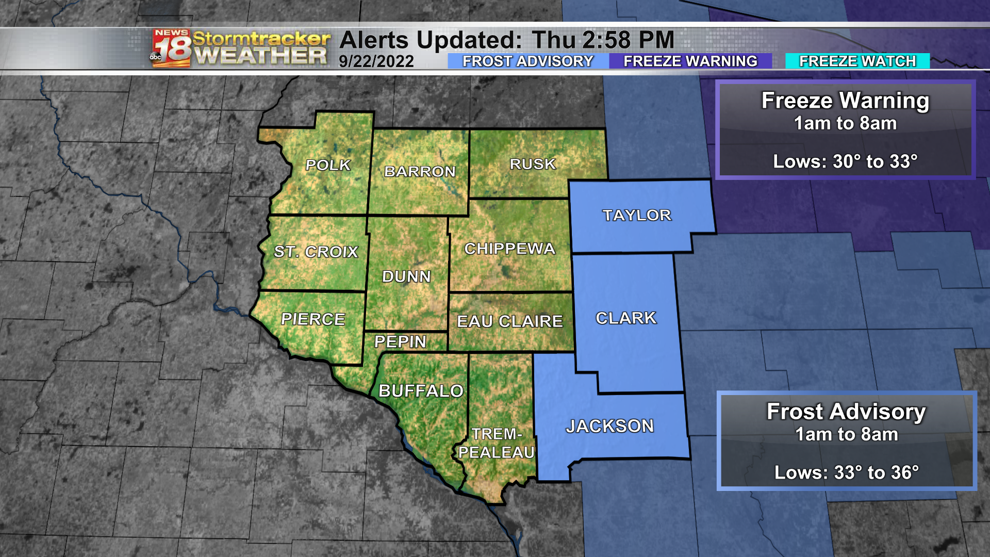 With cooler temperatures tonight, a Frost Advisory is in effect for Taylor, Clark, and Jackson counties from 1am to 8am. It's that time of the year for frost to be possible, so make sure to cover or bring inside any plants you want to preserve if you live in the advisory area.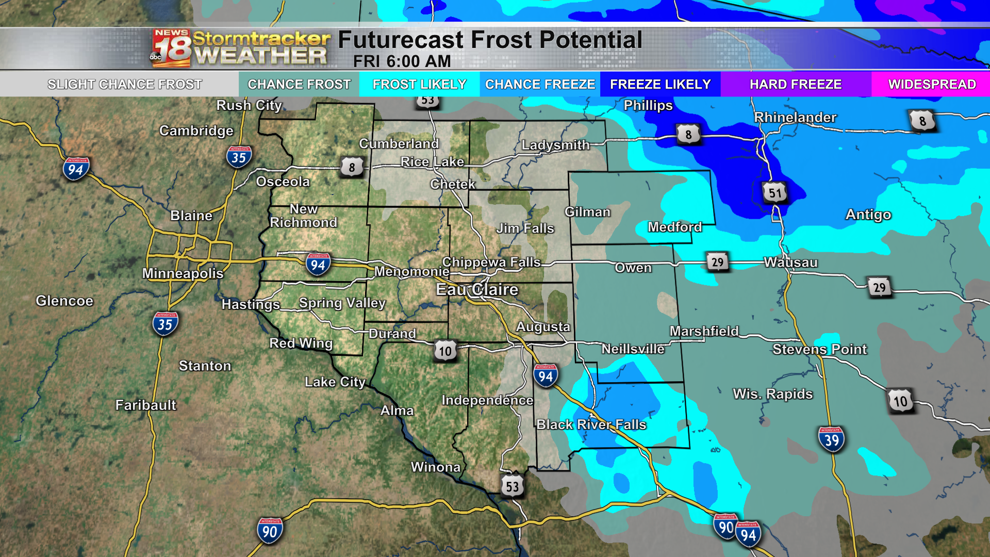 The chance for frost is highest near and east of Medford in Taylor County as well as in the Black River Valley and nearby cranberry bogs of Jackson County. There is a chance for a light freeze near Black River Falls, too.
Frost is not exactly tied to any one temperature like a freeze is at 32°. This is because other factors play a part in frost formation. Generally, this becomes more possible near or below 36 degrees, and Eau Claire's average first low of the season at or below that threshold is September 25, so we're right on par with average especially since it's unlikely for Eau Claire to hit that yet tonight.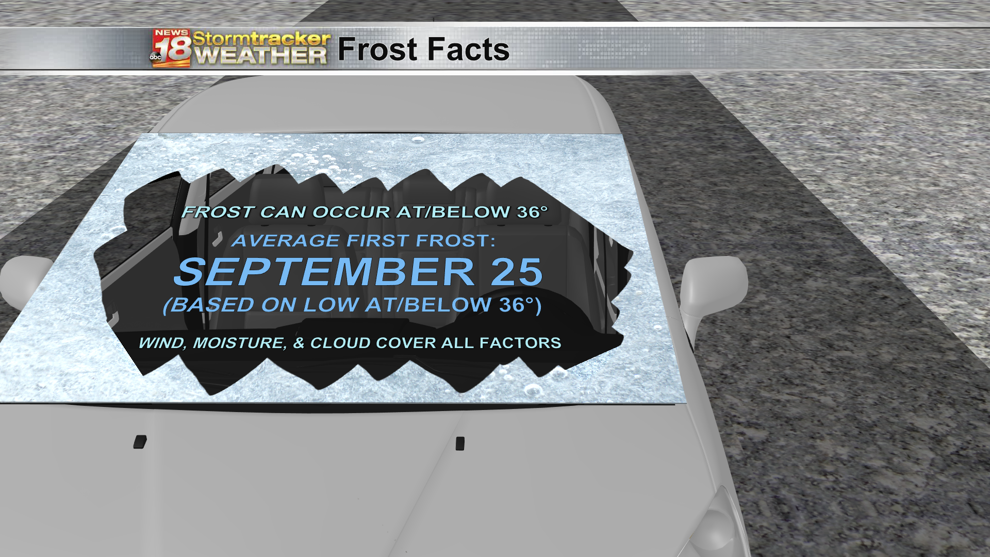 For frost to form, the air temperature usually needs to cool to at least 36 degrees, though temperatures of 34 or cooler are more likely to produce widespread frost. There also needs to be enough moisture in the air in order to produce frost, which is simply frozen dew. The wind needs to be light and generally there needs to be a clear or mostly clear sky for the process to work efficiently.
There will be a clear sky tonight, though some cloud cover will begin to arrive from the west late tonight into tomorrow morning. This is part of the reason frost is more likely further east.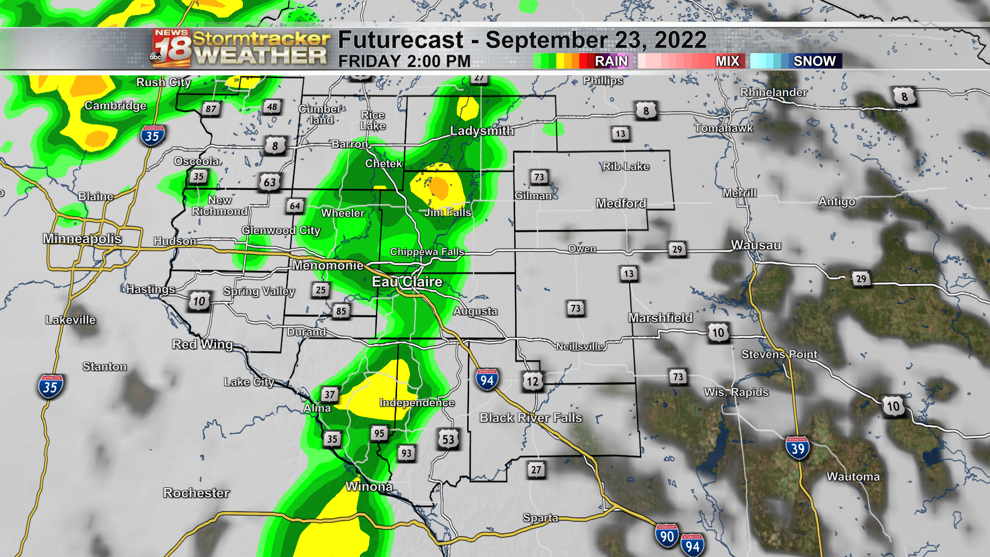 Rain is likely at some point tomorrow afternoon and evening with a chance for the first scattered round arriving mid-afternoon. Expect scattered light rain showers along with cooler temperatures.
After a couple hour break with just isolated showers in the early evening, another round of scattered showers will move through late evening and could linger into Saturday morning.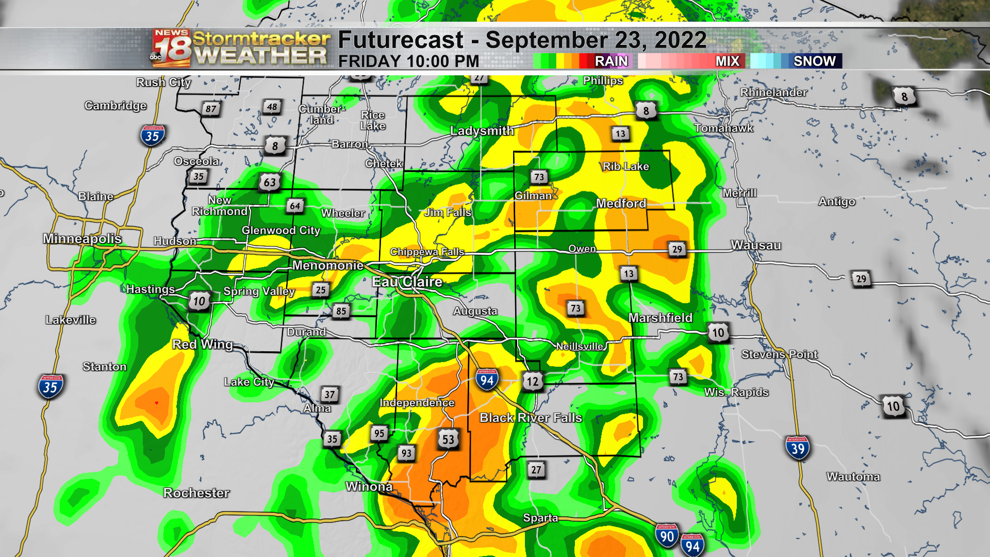 Only a few isolated showers are expected during the day on Saturday before another round arrives in the evening and could continue through Sunday morning.
Low temps won't be as cool as this system moves through as there will be a blanket of mostly cloudy skies to hold in some of the daytime (relative) warmth. Highs will actually warm up through the weekend as well as the wind will be out of the south or southwest to carry in warmer temps, though in this case "warmer" means the mid to upper 60s. Colder air returns next week as clear skies return, and there will be a couple more chances for frost and freezes.