This is part of a STEM-supplementing series of easy to make weather instruments. Stormtracker 18 has how to make a barometer, which is used to measure pressure.
Here's what you'll need: scissors, a drinking glass, balloon, spool, index card, tape, pencil, drinking straw, and either a toothpick or sewing needle.
Step one: Cut the balloon so there's enough to stretch over glass, but not too much. Stretch it over the glass and secure it with tape, if necessary.
Step two: Place the drinking straw so that one end is at the center and flat on the balloon on top of glass, and glue it to the balloon at the rim of the glass. Glue the toothpick or sewing needle onto the end of the straw.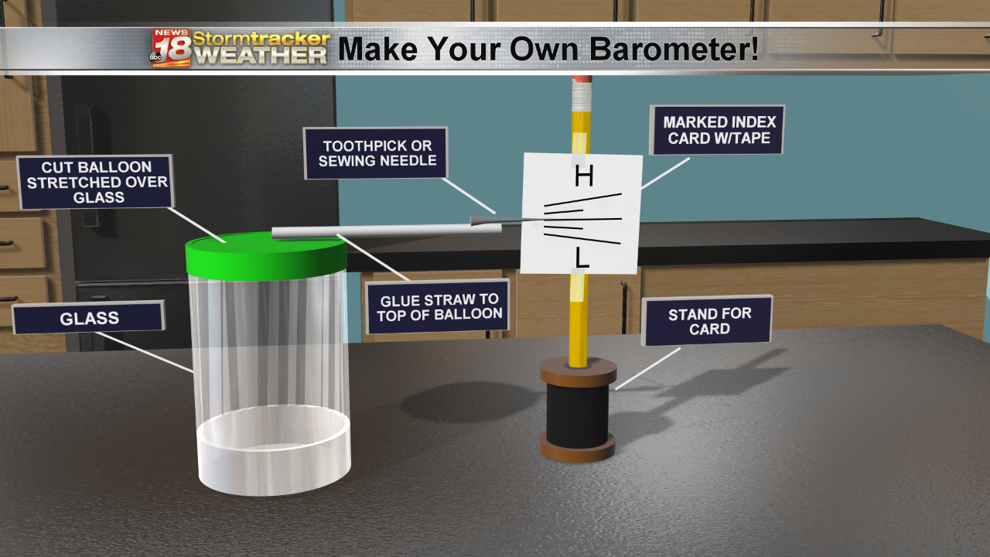 Step three: Label the index card with an "H" at the top for "high" pressure, and an L at the bottom for low pressure.
If you want the instrument to read correctly, you have to mark the middle of the card where the needle will point to near where the current air pressure is.
The average air pressure adjusted to sea-level (what most weather instruments read) is 1013.25 millibars or 29.92 inches of mercury. a strong low pressure system can easily measure 990 mb or 29.23 inHG and a strong high pressure system can measure 1035 mb or 30.56 inHG.
Fun facts: The highest sea-level adjusted pressure ever recorded was 1084.8 mb (32.03 inHg) in Mongolia and the lowest sea-level pressure was at the center of Typhoon Tip in 1979 of 870 mb (25.69 inHg). Lower pressures have been measured briefly at the center of tornadoes, and at this point are not considered low pressure records due to their small size and length of time they lower pressure.
You can check sea level pressure measured at your nearest airport on the National Weather Service website.
Step four: Now it's time to make the stand so you can read what your barometer is detecting. Simply glue a pencil into the spool (or really anything that can be used as a sturdy stand) and tape index card you made in step 3 to the pencil so that needle points at the correct card.
HOW IT WORKS: When air pressure is higher, the air will push down on the balloon and thus raise your straw/needle pointer, and when pressure is lower the balloon will expand up above the top of the glass and the straw/needle pointer will go down. See the following graphics to help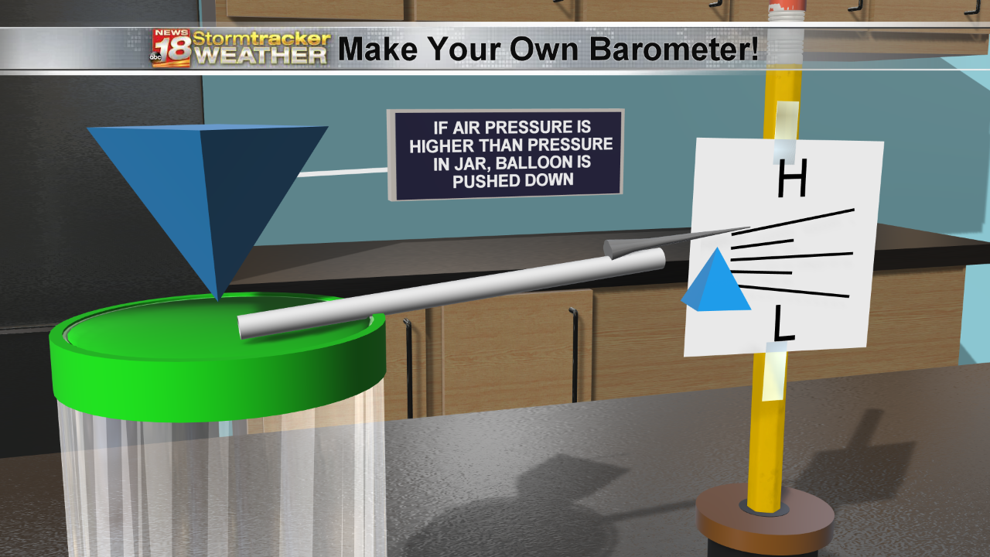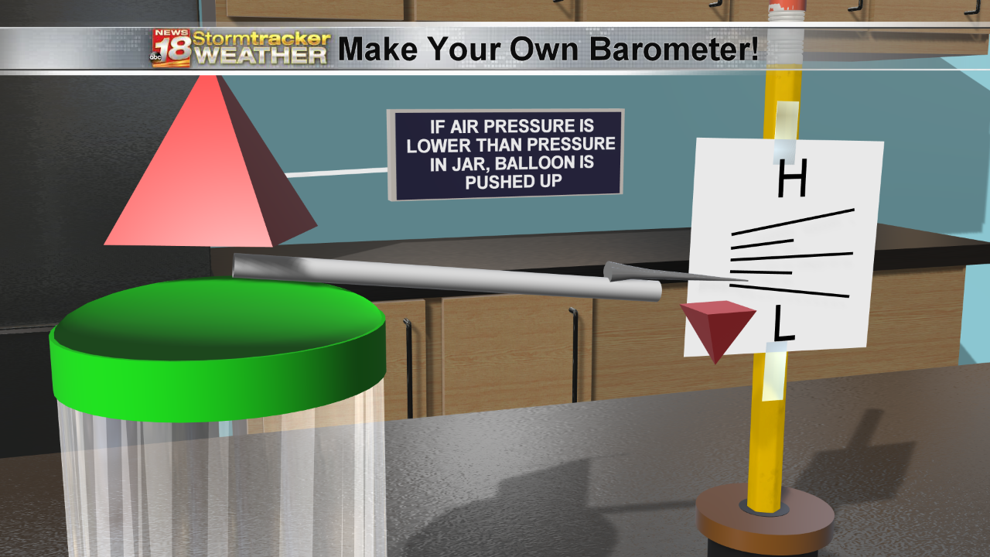 We have more make-at-home experiments and will have them all in one place HERE, so check back often as we continue to add them.