It was another pleasant day across Western Wisconsin with highs ranging from the mid 60s to low 70s along with plenty of sunshine and low humidity. However, changes arrive tonight.
Clouds have already been increasing this evening and rain is now getting closer with widespread rain in Iowa lifting northward towards Minnesota and Wisconsin.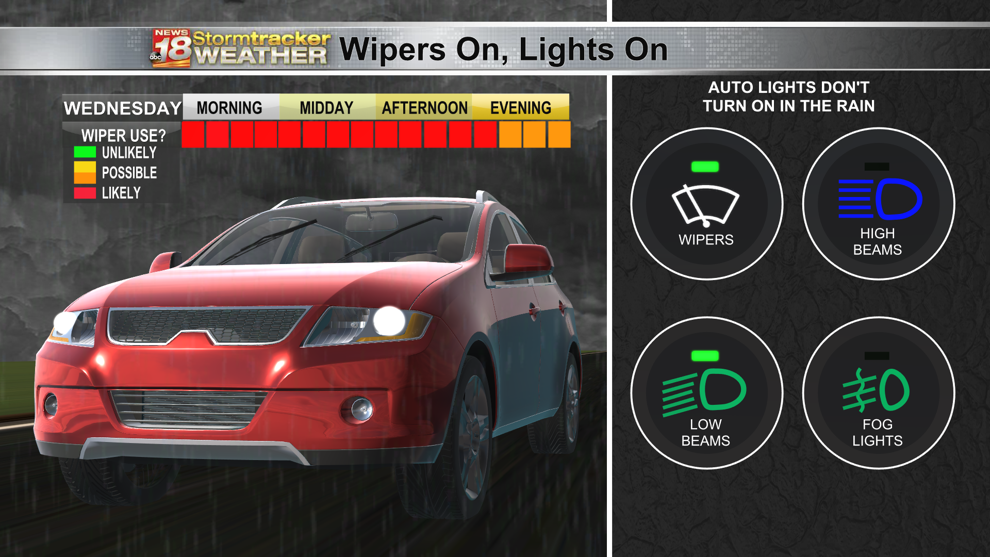 Remember that visibility does get impacted when it rains, and it's recommended you use your headlights if you have to use windshield wipers. In Wisconsin, it's illegal not to have headlights on when visibility falls below 500 feet. While it's very difficult to get visibility to drop that low from rain, using low beam headlights does make it a lot easier for others to see you coming towards them and it turns on your car's marker lights to make it easier for others to see you from behind, too.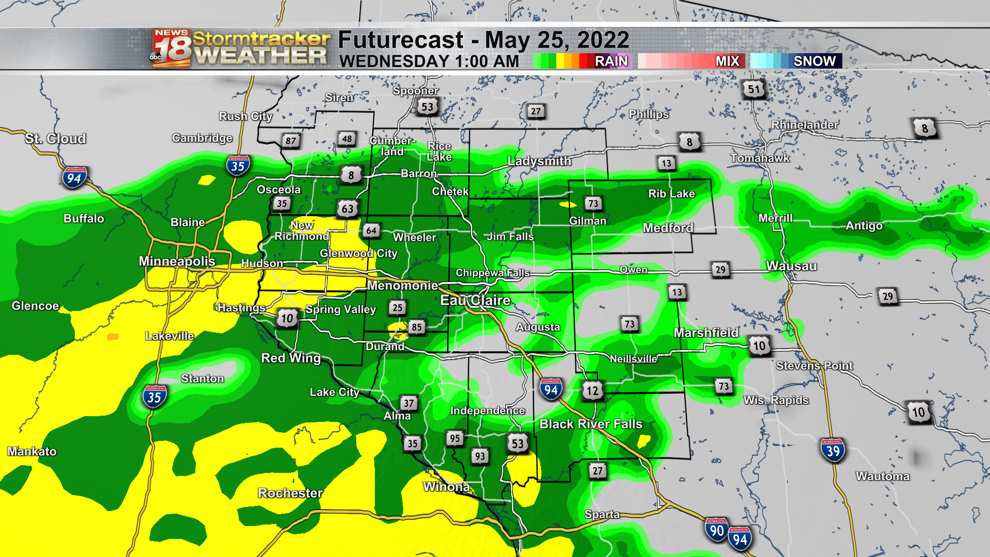 It's likely you'll need to use wipers most of the day tomorrow, as several waves of widespread rain are expected with only a few breaks possible. Rain moves in from the south tonight between 9pm and midnight, and becomes more widespread after midnight.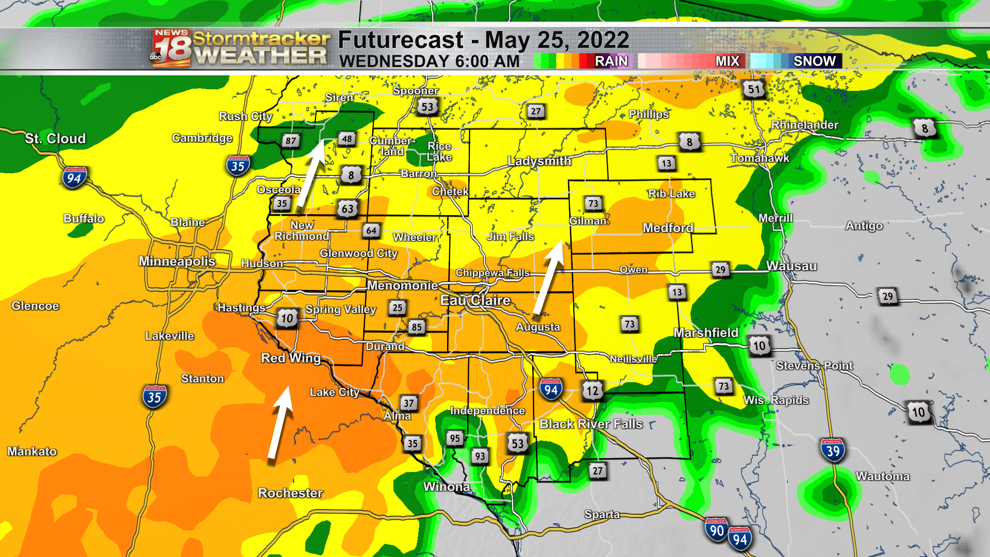 Expect the best chance at moderate to heavy rain rates early tomorrow morning through the morning commute. A break or two will be possible beginning mid-morning, but rounds of rain will remain likely through the evening, especially west of highway 53.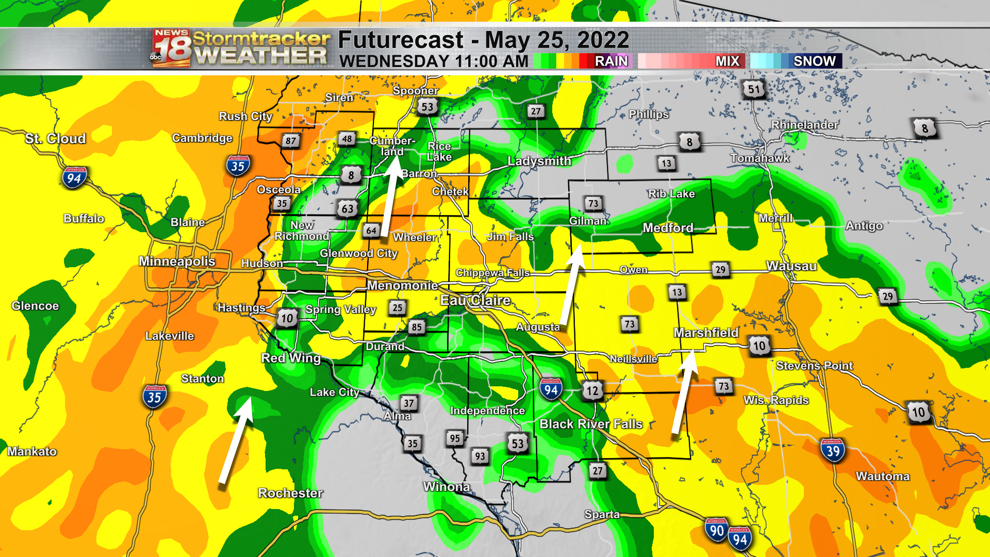 Rain will continue to move from the south-southwest to the north-northeast. A few showers could linger through Thursday morning with isolated showers still possible in the afternoon, though it won't be as heavy or nearly as widespread.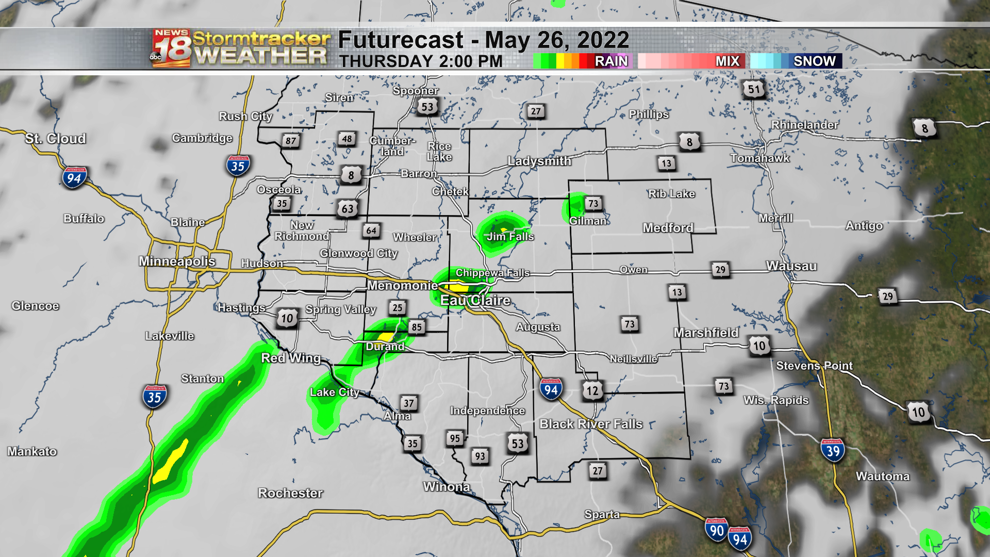 Rain totals are expected to exceed an inch west of highway 25, with chances for an inch or more possible to about highway 27 with lower totals further east. There could be an isolated band of 2" to 3" of rain closer to the Minnesota border.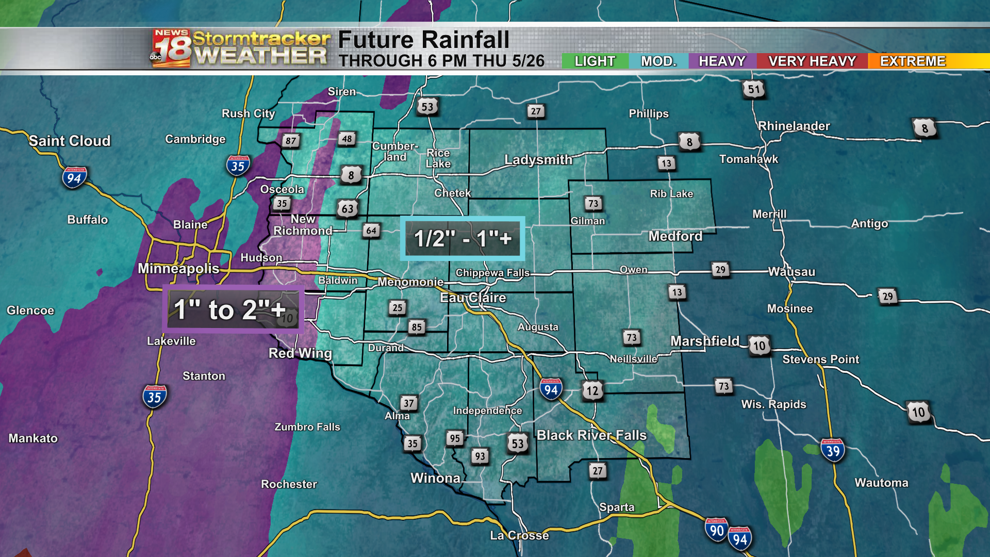 Wednesday will also be windy out of the east-northeast at 15 to 30 mph and occasional higher gusts. The wind and rain will combine for a dreary day, but at least it's in the middle of the work week. Temps will begin to warm once the clouds clear by Friday when highs climb back into the mid 70s.
Humidity won't return until later in the weekend as temps return to summerlike levels near 80 degrees, but slight chances for showers and thunderstorms remain Saturday through Memorial Day. It doesn't look like the weekend will be a washout, and there still are chances that rain misses Western and Northwestern Wisconsin entirely.
Even if it does rain, it should only take up a couple hours each day. The exception would be a bit better chance for rain and storms Sunday night into Monday morning. Slight chances continue Tuesday as temps and dew points continue to feel like summer.