Rain once again kept temperatures cold all day. Between 1/4" and 1/2" rain fell generally south of highway 29, with totals below 1/4" north of that. Rain will end overnight, and that will lead to even colder temperatures.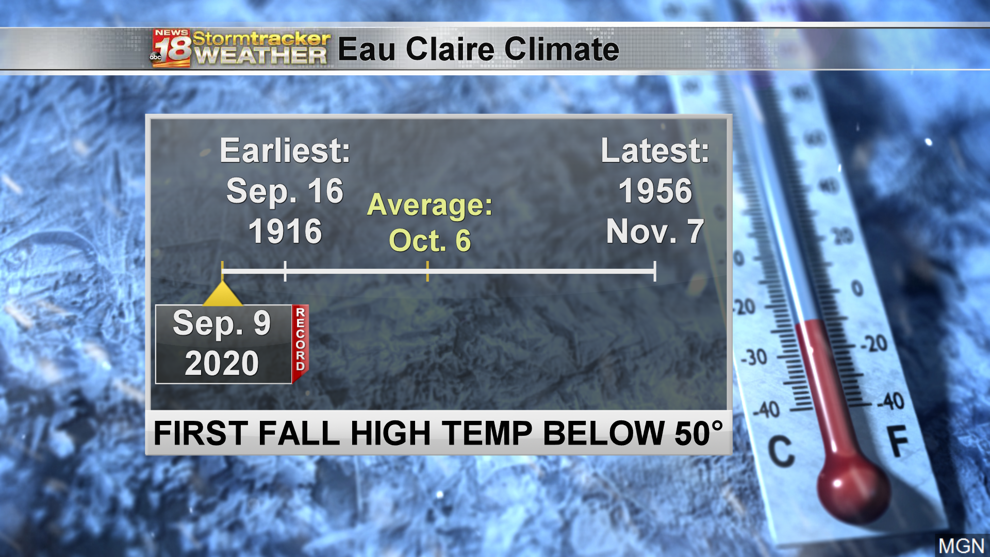 Eau Claire's high temperature so far today is 49. If that stands, it will be the first day of fall with a high below 50, and will be the earliest sub 50 degree high ever recorded for Eau Claire, breaking the 104 year old record by a full week.
Eau Claire's average first high below 50 (not including 50) is October 6, and the latest Eau Claire has ever gone without a high below 50 is November 7 (set in 1956).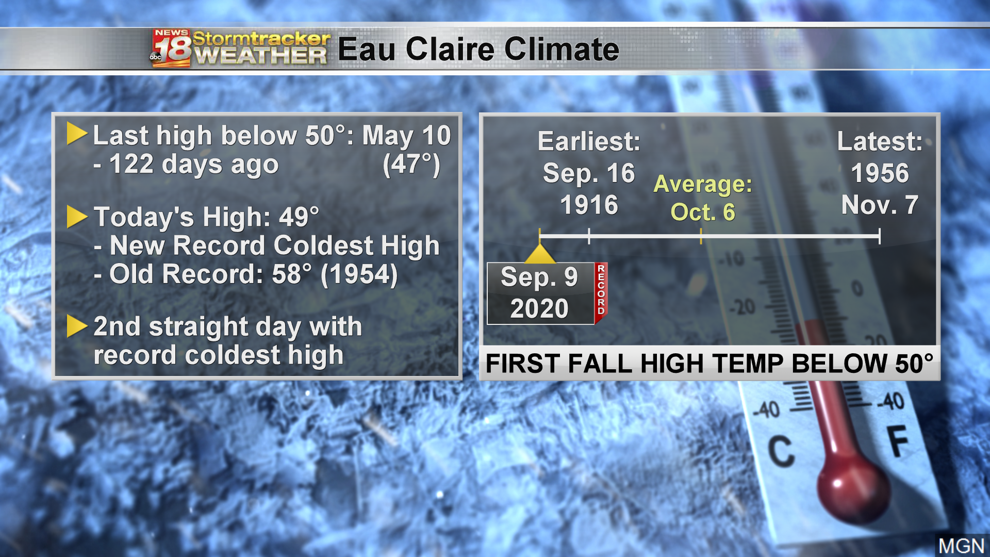 Eau Claire has gone 121 days with highs rising to at least 50, as our most recent high below 50 was 122 days ago on May 10.
In addition, today was the second straight day in a row with a record coldest high temperature. Today's record was shattered by 9 degrees, with the old record coldest high being 58 in 1954.
Temperatures didn't change much today, as the lows were only a few degrees cooler than the highs. Once the rain ends tonight, that will change as temperatures fall faster with clearer skies. Yes, there also was a wind chill factor at times throughout the day, and areas that don't have wind chills is because the wind is light, not because temps aren't cold enough. Wind chill can be calculated when temperature hits 50 degrees or colder, and wind speed is at least 4 mph. Some spots had wind chills in the upper 30s even this afternoon.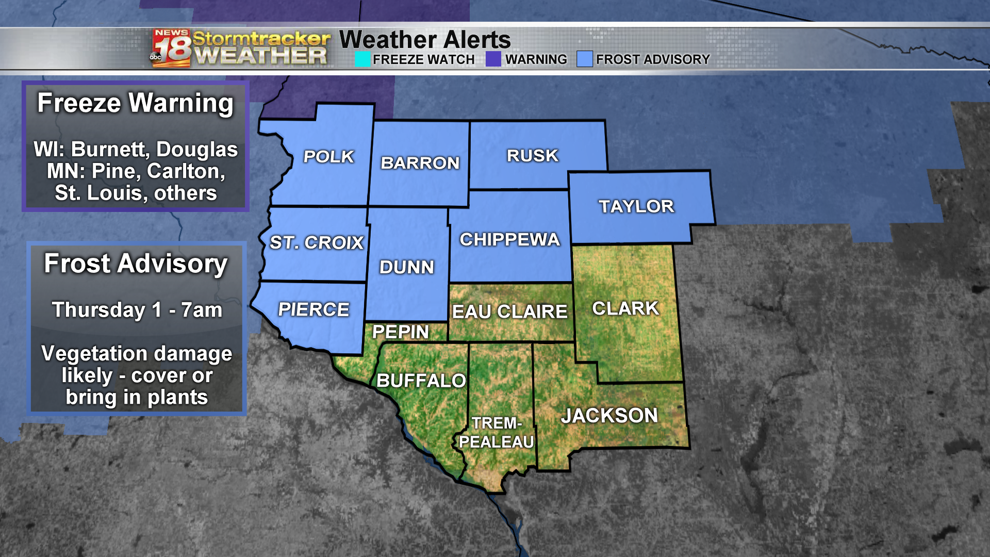 Once the sky clears late tonight, temps will fall towards the mid 30s. Spots with forecast lows in the low to mid 30s have a Frost Advisory in effect, and even counties without an Advisory could see a few isolated areas of patchy frost.
Frost may be widespread north of highway 64, and a few spots might even have low temps flirt with 32 degrees. Bring in or cover up plants, as damage to crops and vegetation is possible.
Fog is also likely late tonight into early tomorrow morning, but sunshine by the afternoon should help warm temps to near 60 degrees.
Tomorrow night into Friday morning could also experience some patchy frost and isolated freezing temps, but after that temperatures start to slowly climb towards the 70s, which are most likely after Saturday's rain chances.