A winter storm is targeting Western Wisconsin. A low pressure system will move from the plains into the Upper Midwest on Tuesday. The National Weather Service has issued a Winter Storm Warning for Barron, Polk, and St. Croix counties from 5am to 6pm and a Winter Weather Advisory for Chippewa, Dunn, Pepin, Pierce, and Rusk counties from 4am until 9pm Tuesday, November 29, 2022.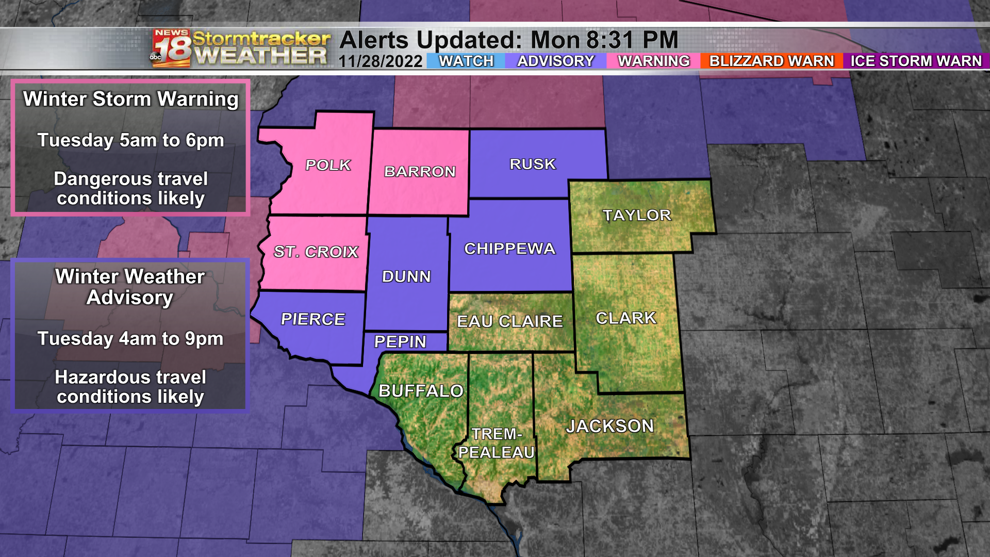 Timing: Precipitation will begin between 5am and 8am across Western Wisconsin, mostly as snow. However, when temps climb to the mid 30s through the middle of the day, precipitation may change over to a mix or rain. Snow will return by afternoon with heaviest precipitation mid-morning through mid-afternoon. 
Totals: Snow totals will vary quite a bit over the Chippewa Valley and depend heavily on how much rain mixes in. Areas near and southeast of the Chippewa River are most likely to see a mix and/or rain that will limit forecast totals. Areas under the Winter Storm Warning can expect 4 to 8 inches of snow. Areas in the Winter Weather Advisory can generally expect between 2 and 6 inches. Areas southeast will receive more rain or mix and could see little to no snow accumulation, though up to 1" is possible.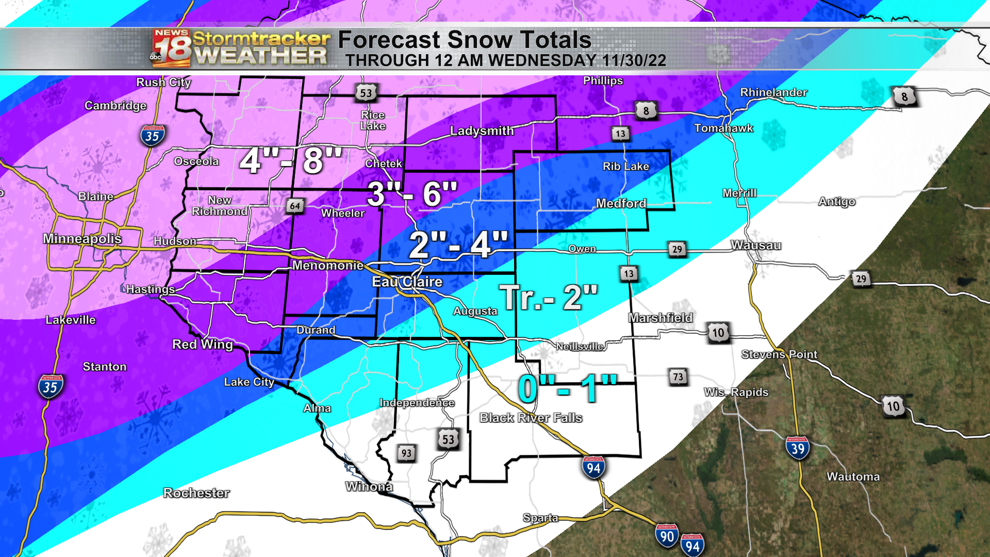 Winds: Wind shouldn't be too strong, though a morning northeast wind of 5 to 10 mph will shift to being out of the northwest at 10 to 20 mph by evening.
Visibility: Moderate to heavy snow rates combined with that breeze will create low to very low visibility during Tuesday afternoon and evening. 
Travel impacts: Low visibility and slippery roads will lead to hazardous travel conditions all across the Chippewa Valley even where there isn't a warning/advisory. The warning and advisory areas will see higher snow totals (warning will have most), but roads will likely be slippery all across Western Wisconsin. Make sure to slow down and leave plenty of extra space when traveling, especially for Tuesday's afternoon/evening commute. 
Forecast beyond this system: Temps will cool down briefly and be coldest with single digit low temperatures by Thursday morning. Temps will warm up again Friday ahead of our next snow chance Friday night. 
Your Stormtracker 18 Weather team will keep you updated with the latest information on air, at the WQOW.com weather page, and through the free WQOW Stormtracker 18 weather app.
Meteorologist Jeremy Landgrebe will be tracking the system and your morning commute conditions on Daybreak Thursday morning from 4:30 to 7 a.m.
Latest updates on social media:
Stormtracker 18 Weather Facebook Page
Chief Meteorologist Matt Schaefer's Facebook Page
Chief Meteorologist Matt Schaefer's Twitter Page
Important Links:
For the latest interactive radar, click HERE.
For the latest school and organization closings, click HERE.
For the latest road conditions and DOT camera views, click HERE.